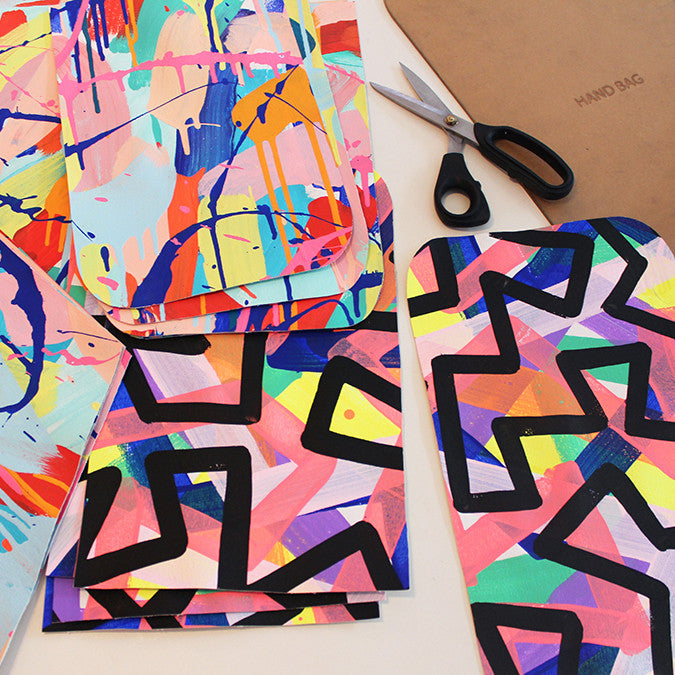 The process we use to create Tiff clutches is unique to us and ensures every single piece we produce is completely individual. It's the thing we love most about our work, along with seeing the connection each person has when they find that one clutch or accessory that really speaks to them. Each paint splatter or stroke falls a different way on the canvas, creating a different effect each time. 


You might come across another bag cut from the same canvas, but never the exact same one. Once a bag is sold, that's it! It's that person's own and completely unique piece of art to keep.
We love customers to see us making which is why we have our open studio store in Adelaide, South Australia – anyone can come in at any time to watch us work and paint, have a chat and browse the finished pieces. For the Tiff team, although we work hard, we don't really see our process as 'work' – it is so much fun and we love spreading this sense of playfulness and colour around.
For anyone too far away for a studio visit, here's a few pictures of our process in action in the studio. 
It starts with an idea for a colour palette which can come from anywhere – Tiff usually has a style in mind, we look to contemporary art styles and design movements, colours used in recent fashion collections or street art, and gain inspiration anywhere from Pinterest to a coloured door seen around the neighbourhood  The season at the time can be influential too - it's really up to the mood of the day.


There can be a few big pieces of canvas hanging around the studio walls at once to paint on, allowing us to work on a few ranges simultaneously. Our painting techniques consist of anything from a plain backdrop, paint splatters, texture, shapes, metallic touches of silver, gold, copper or bronze. The paint can take a long time to air dry depending on the weather, so each canvas takes at least a few days to reach completion.
Once a canvas painting is complete, we cut it into clutches. When cutting up the canvas, you can't immediately tell how each clutch will turn out - it never gets old seeing two completely different clutches cut out of the same painting, and then seeing how different people react to them.
The canvases are then turned into a bag by attaching our signature pink lining and protective cases. One of our favourite parts of the process is seeing a big box of the finished products all together - they look completely different and polished in their cases. We then take time to give a unique name to each canvas and label each clutch individually with a number, which you will notice on the tag inside your clutch. Up to the day of writing this blog post, we have created 20,300 bags and 3700 accessories – it's amazing to think they are all out there floating around!
This could be the end of the process – but our customers are such an important part of the Tiff brand that we have to mention them too. We wouldn't be here if people didn't have this completely natural and fascinating reaction to colour. Girls come into our studio or post on instagram with stories about how they discovered our products, or how colour has in some way influenced their lives – we see this every week and it's so special. The best part of this project is being able to bring more colour into everyday life and bring people happiness in the process; it's a simple pleasure but a great one.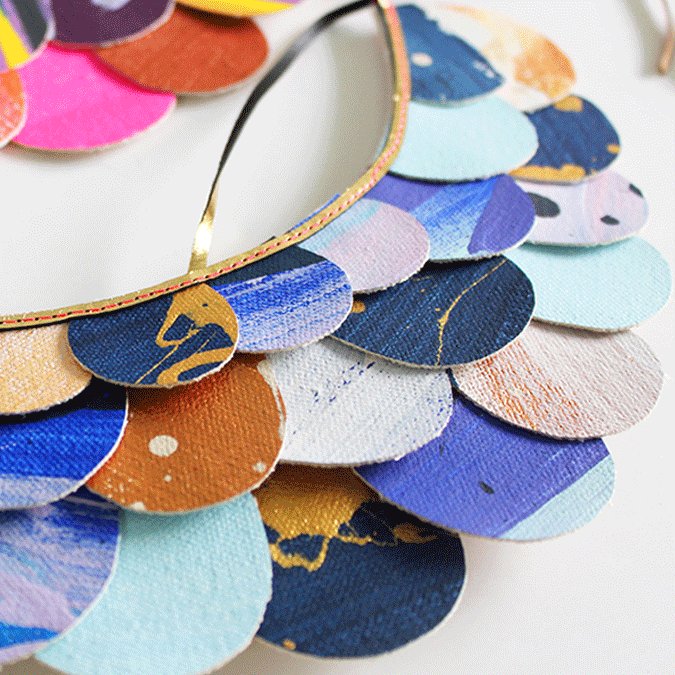 Issy makes accessories and specialises in the Nightingale style. These neck pieces are made up of different individually cut scallops from hand-picked sections of painted canvas. Issy usually choos...
Read more