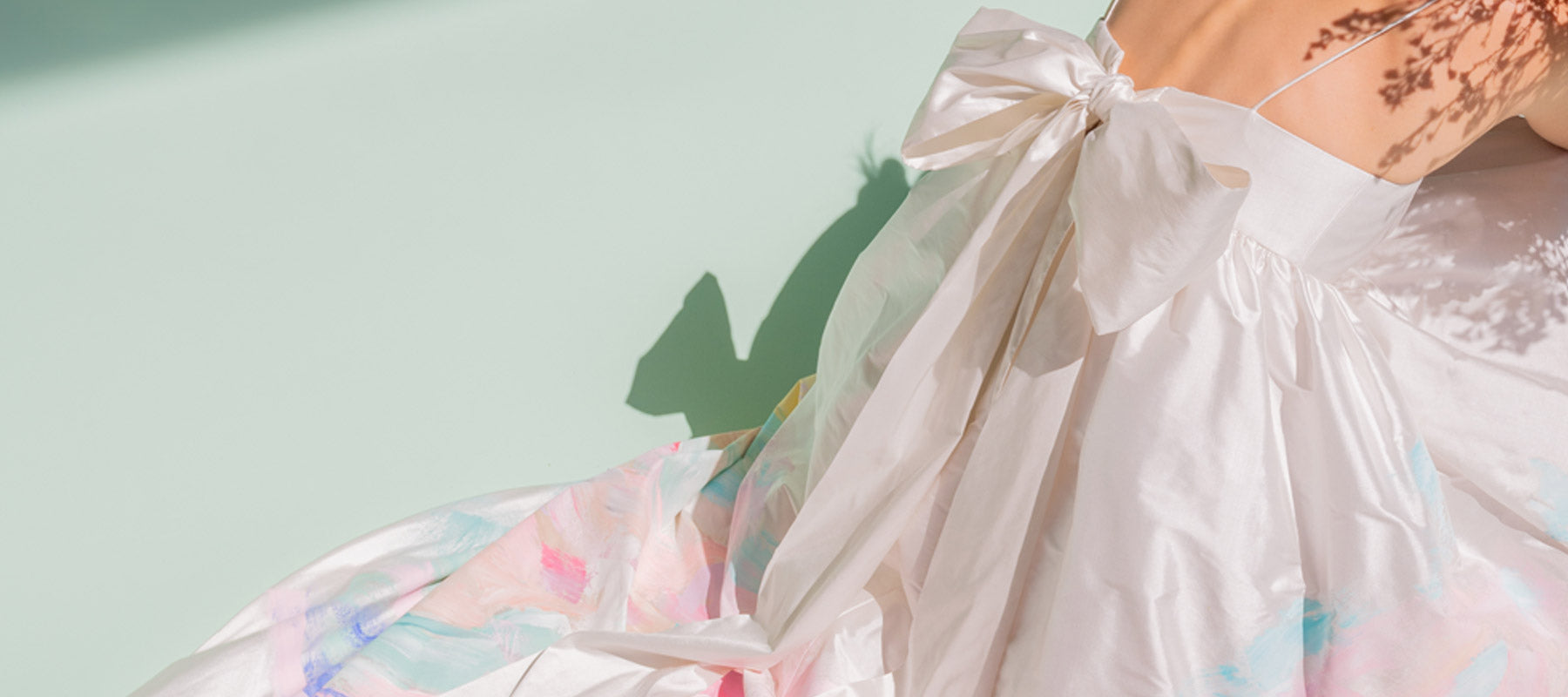 One of a kind
Hand painted pieces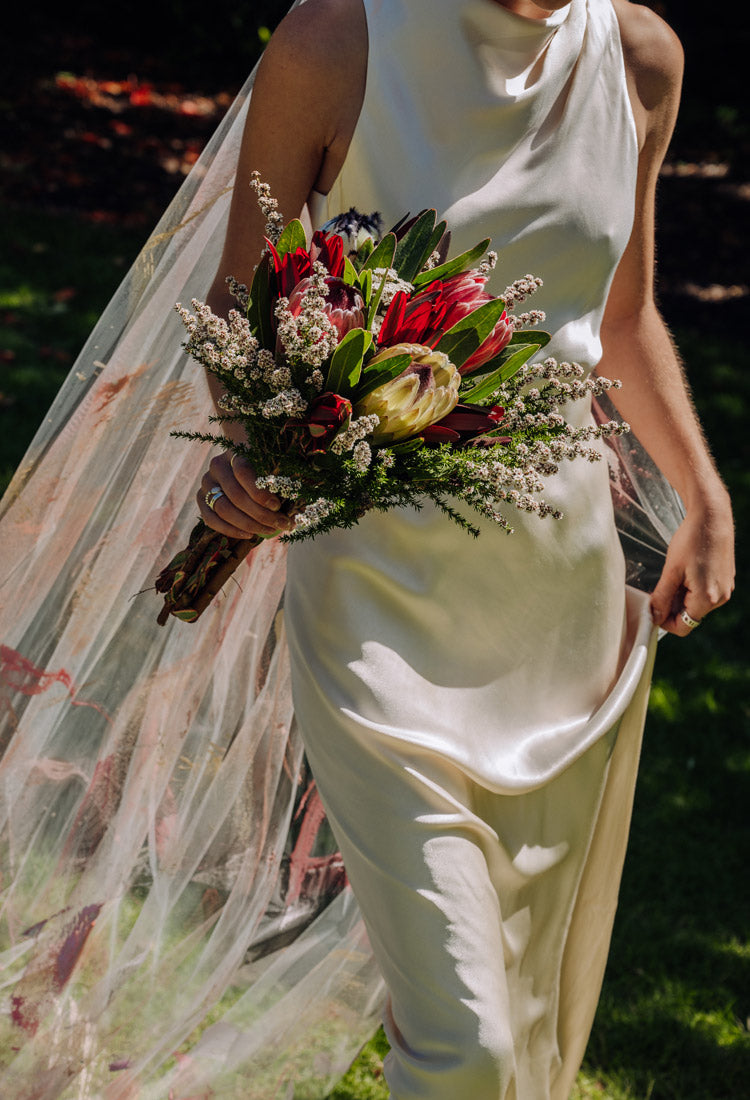 Tiff Manuell Bridal
For The Wild at Heart
One of a kind, hand painted pieces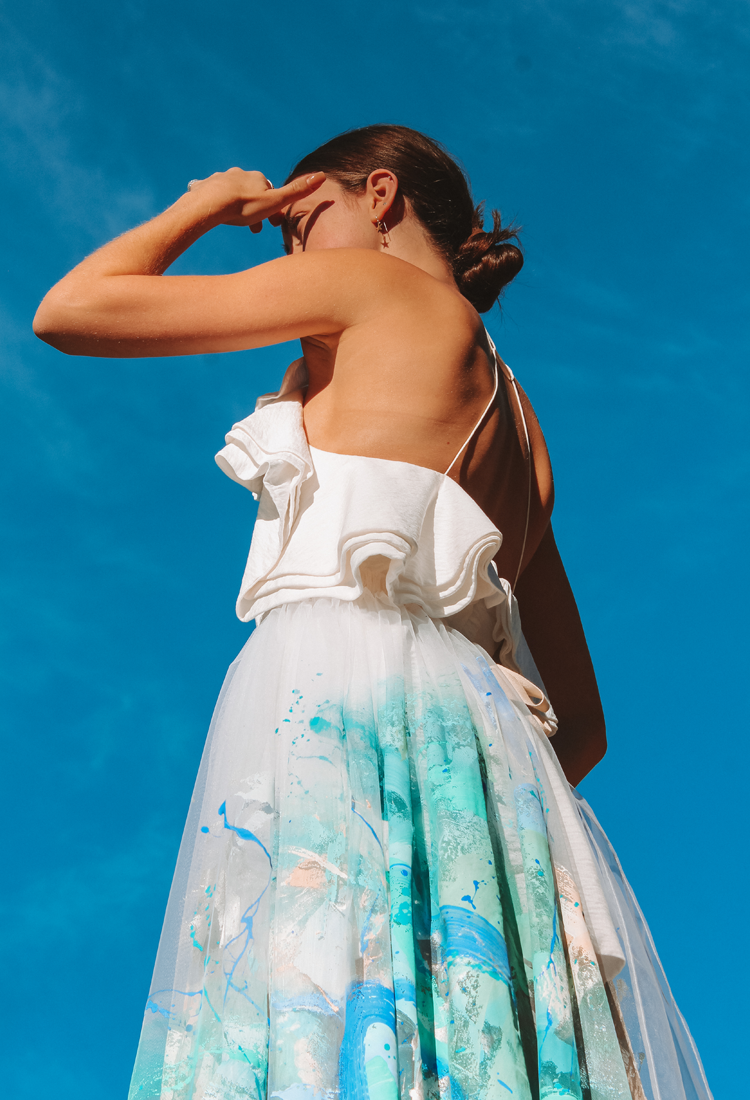 Bringing Your Vision To Life
Custom Tulle Skirts
Although Tiff has always adored painting from the heart with total creative freedom, creating with someone special in mind is a total joy. Tulle skirt sizing (length and waist measurements), colour palette and painting style (floral, abstract, graphic etc) are all variable to bring about your dream piece.
If a previously sold skirt stole your heart, or if you have a particular look or colour palette in mind, Tiff can work from your event mood board or a single photo displaying your dream colour palette. Our current wait time for tulle skirts is four to five weeks, they retail for $850.00AUD. There is no extra charge for custom pieces (unless adjustments are made to the length or waist measurements.) If you would like to place an order for a one of a kind, hand painted tulle skirt, please contact us directly at indigo@tiffmanuell.com to discuss your dream piece.

Simply send through your colour/design specifications along with your desired tulle colour (black or white). Please attach any photos that reference your desired colour palette, painting style, event mood board or past tulle skirts you've loved. That way, Tiff can accurately bring your vision to life.
We look forward to hearing from you!
With love,
 the tiff team xx
Bridal
Please contact indigo@tiffmanuell.com to discuss customising the colour palette of your Tiff Manuell bridal piece.

Please note, at this stage we are unable to offer customisations to shape or silhouette. Only colour palettes and painting composition.

Our pieces have been designed to be easily adjusted and re-designed by a seamstress, should you wish to add the skirt portion to a new bodice etc.
Our bridal studio is located in Adelaide, South Australia where we dream, design and paint all of our bespoke pieces.
We offer sizing 6 thru 16 off the rack. Please see here for size guide. We are super happy to grade up sizing, please contact indigo@tiffmanuell.com to discuss.
Tulle Skirts start at $850AUD

Bridal Silk Pieces from $3,900AUD

Veils range from $500 - $1400AUD.


Please email indigo@tiffmanuell.com for more information.
Shipping & Returns
Please contact indigo@tiffmanuell.com for a quote.
Delivery Time: Bridal pieces will take a minimum of 1 month production
time. This is subject to change based on production schedule, More accurate timing can be discussed upon inquiry. Shipping will require approx 3-4 business days.

Australian and International Bridal orders are delivered via DHL Express.
No Returns or Refunds.

Please note, as our bridal veils, skirts and dresses are incredibly special, one of a kind art pieces - we need to ensure handling is minimised, we are therefore unable to accept returns or refunds (unless the items are faulty.) Before purchasing please check your sizing against our sizing guide, if you would like additional photos of the garment please contact us via email. Appointments and viewings via our Norwood studio are welcome.

Custom

Please be sure of your sizing and measurements when ordering as no returns will be accepted on garments or accessories unless the items are faulty. All of our bridal pieces are made to order, cancellation of an order can only occur if production has not yet commenced.
International orders may incur duties and taxes. Duties and taxes are determined by the customs agency within the destination country at the time of delivery. Charges are not always incurred, assessment of duties and taxes is based on the value of the order. Payment of any duties and taxes is the responsibility of the customer.