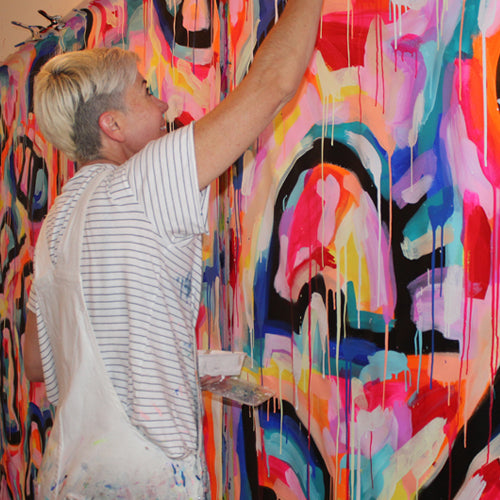 The making of "Socialite"
Often we are asked about the process behind our planning, inspiration and paintings, so we thought we'd give you little insight into one of Tiff's pieces. This piece, titled "socialite" combines textures, layers and perfectly paired hues to create a bold and striking trio of canvases. Below are a collection of images that display the layering and colour selection process of one of Tiff's pieces. If you love this style you can shop "socialite" here.
A few words from Tiff…
"When I arrive at my studio each day, I rarely have a a set plan. For me, it's more about how I'm feeling in the morning and the energy of the day; this usually translates into my work through colour pallets, tones, techniques and approaches. Most often this will influence the scale at which I paint; either resulting in large scale work or neat and precise pieces. Today I was inspired to go large! Reflecting on where I grew up; I was feeling nostalgic and decided to paint the Northern Territory Outback in my own way; featuring large bolder like shapes and intense colour."